Hunted 40th park for POTA
Written by

KB9RUG
Just wanted to share this award for working my 40th park for POTA. I recently got involved with Parks on the Air, or POTA for short, and have been having a great time. I have 2 activations so far from 2 different parks. Siloam Springs State Park, K-1023, and Jim Edgar Panther Creek State Fish and Wildlife Area, K-4133. For more information on POTA, check out their website https://parksontheair.com/.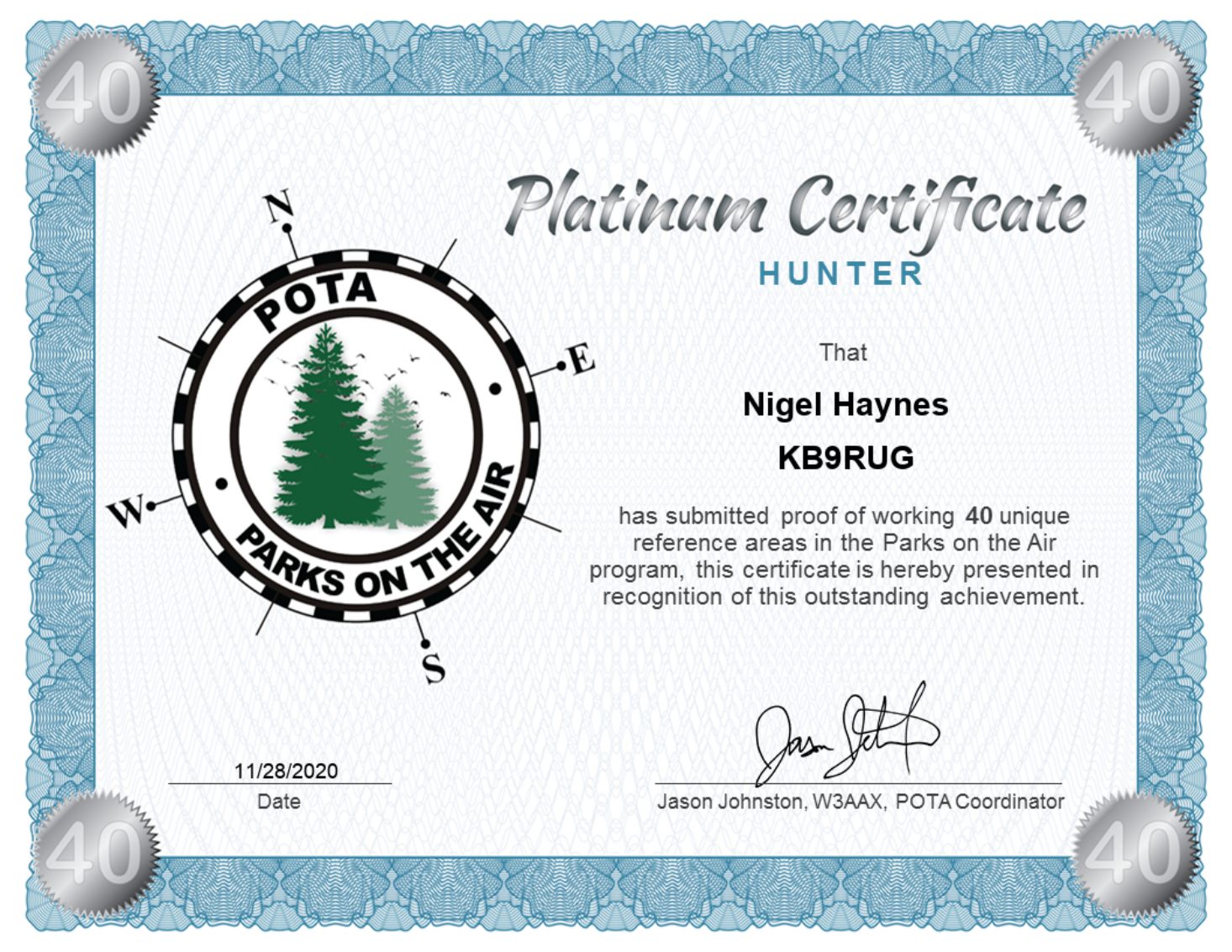 2M Tropo 12/22
Written by

KB9RUG
I heard a station on the 2m calling frequency in qso with a station that I was unable to hear. I waited until l thought it was clear, then called the station. He immediately responded back and we had a good qso. His call was K0TPP, and was located 25 miles SW of St. Louis. He said there was some good tropospheric ducting going on, on the 2m band. This was my first time experiencing this phenomenon, and what a delight. The qso ended around 10:00pm, and I had to shutdown for the night, otherwise I might have been able to work some more stations.
Monday morning I fired up the rig and tuned to 6m FT8 and called CQ to see what my SWR was, and a station answered me after my first transmission. K0TPP! It was nice to make another contact with Larry.
Blogs
Written by

KB9RUG
Future Blog site
446.000 simplex
Written by

KB9RUG
While scanning the bands today I heard someone talking on the 70cm call frequency of 446.000. I looked up his callsign, N9XWX, and he was in Moweaqua! He had a very good signal, but I could not copy the other two stations he was talking to, one was N9PLB and the other was K9LJB mobile. I called him and after a brief (what seemed like forever) silence, I heard him answering me. We were both running 50 watts through a Diamond x300, but his was at 65 feet, mine was only 25 or so feet above ground level. This was my furthest contact on UHF. I'd say this antenna is working rather well.